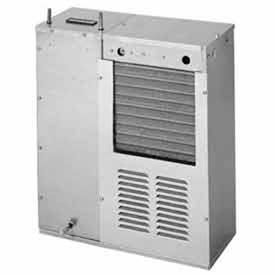 Halsey Taylor® Remote Chillers
Halsey Taylor® Remote Chillers Are Used For Providing A Chilled Water Supply To Convert Drinking Fountains Into Water Coolers.

Halsey Taylor® Remote Chillers are made of rust-resistant heavy gauge galvanized steel for long lasting durability and dependability. Include removable service panel for easy maintenance. Fan motor is a self-lubricating bearing type for maintenance-free longer life. Hermetically sealed, positive start compressor has lifetime lubrication and built-in overload protection, efficient capillary sizing and large capacity dryer-strainer. Self-lubricated fan cools copper/aluminum condenser. 5 Year Limited Warranty. Available in 320 to 1290 watt models.