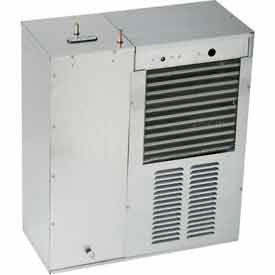 Elkay® Remote Water Chillers
Elkay® Remote Water Chillers Can Be Used With Any Drinking Fountain.

Elkay® remote water chillers convert any drinking fountain into a water cooler. Designed for indoor use. Made using rust-resistant galvanized steel. Features a hermetically sealed compressor. Can be connected to bubbler, glass filler or cold water dispenser (sold separately). May install directly to water unit or in a service area to serve up to three remote outlets within a 15 foot radius. Provides 50°F drinking water, based upon 80°F inlet water and 90°F ambient temperature. 1 Year Limited Warranty.