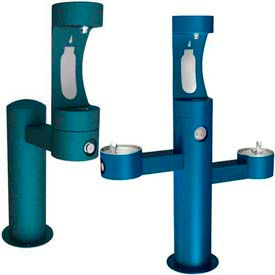 Elkay® Outdoor Bottle Refilling Stations
Elkay® Outdoor Water Refilling Stations

Used for outdoor educational campuses, recreational areas, office complex grounds, golf courses and parks. Durable tubular steel construction.

Weather-resistant finish with corrosion protection internal and external coating. Outdoor models are non-filtered and non-refrigerated.

Units feature vandal-resistant one-piece bubblers, heavy-duty steel water refilling stations with a 1 GPM fill rate, and some also include a pet fountain. Configurations vary by model.

Each unit includes a vandal resistant pushbutton activation. Standard color finish is evergreen. Additional colors and freeze resistant units can be special ordered upon request.