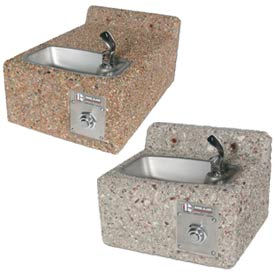 Concrete Wall Mount Drinking Fountains
Wall Mount Drinking Fountains Are Popular For Use Indoors And Outdoors!

Concrete drinking fountains provide clean drinking water for any environment. Wall mount water fountains are made of pre-cast concrete with lead free components including stainless steel receptor, access doors and mounting brackets to provide weather proof and corrosion resistance that's great for outdoor applications. Drinking fountains include vandal resistant screws and double bubbler projector with chrome plated exposed fittings for theft protection and an attractive finish. Smooth, contoured basins with rounded corners and edges helps reduce splatter, ensure proper drainage and prevent standing waste water. Concrete water fountains are easy-to-clean and have beveled edges and corners for safety. ADA Accessible Drinking Fountains without barriers are available. Freeze Resistant Drinking Fountains prevent frost or frozen water in colder climates. Features a freeze resistant valve system that installs behind a non-freezing wall for housing the water connection from the stop to the strainer.