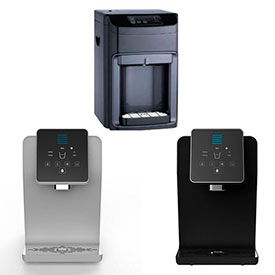 Bottleless Countertop Water Coolers
Bottleless Countertop Water Coolers Are Used For Small Offices or Kitchens When Space Is Needed.

Countertop Water Coolers have stainless steel hot and cold tanks for long lasting durability. Built in cup holder and built in filtration system provide ease of use. Control panel, LED indicator panel and safety button for hot tank. With electronic water shut-off system and adjustable cold temperature functionality. Power switches for hot/cold tanks. Available types include No filters, 3-Stage and Reverse Osmosis.