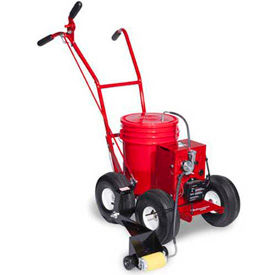 RollMaster™ Line Painting Machines
RollMaster™ Line Painting Machines Are Environmentally Safe And Provide Fast And Easy Clean Up.

RollMaster™ Line Painting Machines paint from standard one gallon paint cans to provide optimum performance. Uses water, oil based paints, safe latexes and low VOC paints to help reduce paint costs. Add paint can to frame, insert tube and squeeze handle for dispensing. Frame is made with heavy duty die cast aluminum and structural steel Roller covers to provide long lasting durability. Line striper includes a 4 W disposable roller kit that includes one 4 W roller, paint hose and discs. Available types are 2", 3" and 4" Wide Lines and 4" Wide Lines. Paint can capacities are 5- and 1-gallon. Dimensions vary per style.