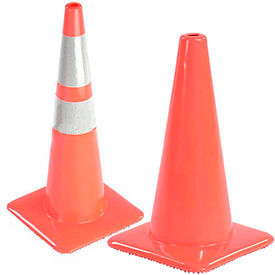 Reflective & Non-Reflective Traffic Cones
Reflective and Non-Reflective Traffic Cones Are Designed For Applications Including Construction, Roadwork, Emergency Services, and more.

Reflective and non-reflective traffic cones deter traffic from hazardous roads and conditions including accidents, breakdowns, maintenance, and more. Includes reflective collars for high visibility in low lighting applications. Weighted base ensures unit stability and tip prevention. Custom imprinting available. Available types include Non-Reflective, Non-Reflective/Black Base, Reflective, and Reflective/Black Base. Package quantities are 1, 4, 6, 12, and 50. Colors are Orange and Orange/Black. Meets MUTCD specifications. PVC construction provides lasting durability and corrosion resistance. Dimensions vary per model.