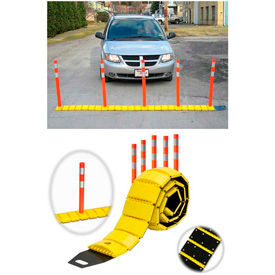 Portable & Permanent Speed Bumps
Portable And Permanent Speed Bumps Temporarily Control Traffic Flow And Conform To A Variety Of Road Surfaces.

Portable And Permanent Speed Bumps help protect pedestrians and control vehicle speeds, increasing school zone safety in parking lots and small roads. Speed bumps are made of plastic for long lasting durability and dependability with low maintenance. Features heavy-duty bag unit for convenient means of transport and storage. Also available as a permanent speed bump, offering the same durability and reliability as portable speed bump units. Portable speed bump also available with Delineators and Reflectors for blocking off areas. Available lengths are 42-/12, 120 and 240 inches. Width is 12" and 8". Height is 1 inch and 1-3/4 inches. Colors avialable Black or Yellow.