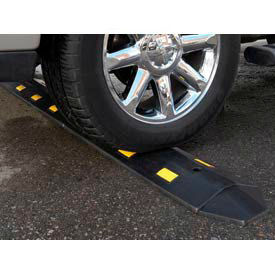 36"L Recycled Rubber Speed Bump
The World's Lightest Modular Speed Bump!

Won't chip, rot or corrode. Speed bumps are made of EPDM recycled rubber that is flexible to contour to road crown. Lightweight 36"L speed bump is UPS-able for low cost shipping. Includes one end cap with sloped modular profile to prevent tripping. Bottom sides include 1" x 1-1/2" channels for protecting temporary or permanent cables or hoses; can be used as cable covers. Speed bump features yellow safety plates that are weather resistant to protect against salt, freeze and thaw. Measures 36"L x 10-1/2"W x 2"H. Connector clips are included with purchase of multiple units to join speed bumps together. Asphalt Speed Bumps include two 12"L spikes. Concrete Speed Bumps include 8" lag bolts with anchoring sleeve.