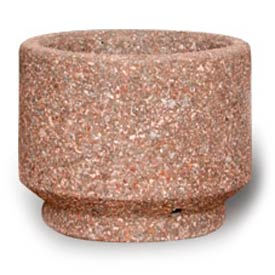 Bohlmann™ - Concrete Planters
Concrete Planters Are Versatile And Attractive Outdoor Architectural Products.

Used for various environments including homes, malls, office buildings, campuses and more. Designed as garden planters or park planters, these concrete planters add to the aesthetics of a facility or home. Made of one piece, pre-cast concrete with welded rebar reinforcement. Beautiful exposed stone aggregate finish. Rounded elevated bottoms with drain holes prevent trapping of leaves and debris. Edges are beveled to prevent chipping. Heavy-duty concrete prevents theft and stays put. Concrete components are tested to stand up to 6000 psi. Choose between Round or Square style planters.