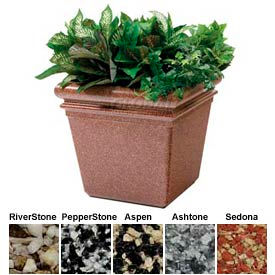 DCI - StoneTec® Planters
Concrete Planters Create An Upscale Look For Both Indoor & Outdoor Environments.

Used for shopping malls, banks, offices, hotels, universities and more! These highly attractive planters are made from durable fiberglass-reinforced polymer concrete that is easy to maintain. Concrete planters offer a wipe-clean surface that also resists chemicals, moisture and extreme temperatures. Drainage holes with plugs ensure proper drainage for low maintenance. Measures 19 W x 19 D x 18 H. 1 Year Limited Warranty.