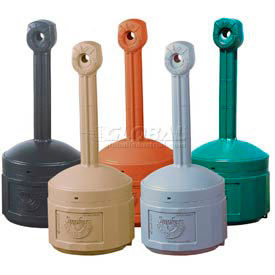 Justrite® Smokers Cease-Fire® Cigarette Receptacles
Justrite® Smokers Cease-Fire® Cigarette Receptacles Are The Safe and Attractive Answer to Cigarette Butt Disposal.

Justrite® Smokers Cease-Fire® cigarette receptacles offer an innovative, self-extinguishing design that safely collects unsightly cigarette butts and reduces the risk of fire. These outdoor ashtrays are made of 2-piece flame-retardant polyethylene that won't rust, dent, or crack. Restricted, covered opening keeps rain out and discourages unwanted waste disposal. Simply lift off lid to empty removable galvanized steel pail. Tie-down notches offer security and greater stability under severe weather conditions. In high humidity environments, unique "drip-lip" internal construction prevents tar condensation from escaping. ADA Compliant. Personal 1 Gallon Receptacles are used for decks and patios. Measures 11 diameter x 30 H. 4 Gallon Ashtrays measure 16-1/2 diameter x 38-1/2 H and are FM approved. Purchase Optional Disposable Bucket Liners that are easily placed inside galvanized steel pail to dispose of cigarette waste.