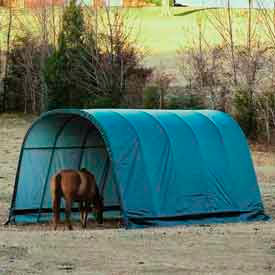 ShelterLogic® Instant Run-In Equine Sheds
ShelterLogic® Run-In Equine Sheds Are Designed For Livestock And Equine Applications.

ShelterLogic® Run-In Equine Sheds deliver easy shade and protection for horses, hay, storage, livestock and farm equipment. Equine run-in-sheds are made of high grade heat treated steel for strength and long lasting durability. Professional grade 1-5/8" all steel frame features a Dupont™ thermoset baked on powder-coated finish that prevents chipping, peeling, rust and corrosion. Ratchet Tite™ tensioning enables quick cover installation. Easy Slide Cross Rail system locks down and squares up frames. Cover is made of 3-layer polyethylene, rip-stop fabric with hot air fused seams that are 100% waterproof. UV-treated inside and out with added fade blockers, anti-aging, anti-fungal agents. High profile white interior lining provides enhanced illumination. Includes steel foot plates and 30" auger anchors. Available colors are Green or White Cover. Lengths range from 240" - 288". Heights and widths vary per style.