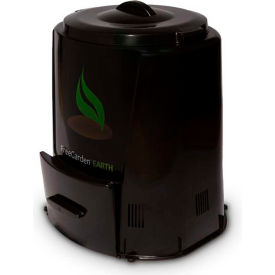 Enviro World FreeGarden™ EARTH Compost Systems
Enviro World FreeGarden™ Earth Compost System Provides Economical And Ecological Compost Solutions For Homeowners And Gardeners.

The FreeGarden™ EARTH is made of 100% recycled content. Animal and pest resistant lid twists provide variable ventilation control. Adjustable body vents allow regulated airflow. Available types are Combo Pack-Rain Barrel, Compost Bin with Base, Thermometer and turner, Combo Pack- Rail Barrel, Compost Bin, Thermometer and Turner, Compost Bin, Compost Bin Thermometer and Compost Turner. Accessories include Metal Grounding Pegs and Composting Guide Booklet. No assembly required. Single-unit main body construction provides easy instillation.