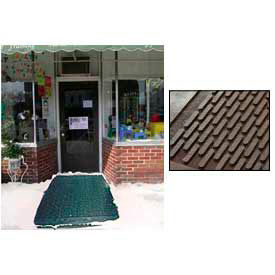 Outdoor Snow Melting Mat
Heated Mat Melt Snow And Ice To Keep Your Entrance Clear And Safe!

This outdoor heated mat is great for entrances, ramps, loading docks, hospitals, nursing homes, hotels and more! 1/2" thick entrance mat is made with reinforced butyl rubber that is UV stabilized for heavy outdoor use. 120V, 40 watts/sq ft. heated mat operate for only pennies a day to offer an effective alternative to embedded systems. Electrically operated heating element is placed between non-slip rubber surfaces. Measures 28"W x 36"L. Includes 15'L power cord. Meets IEEE 515.1 standards. ETL and CETL listed.