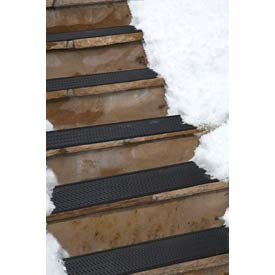 Heattrak® Heated Stair Mats
Outdoor Stair Mats Are Designed To Endure Harsh Wear In Winter Seasons.

Built with non-slip, UV protected rubber making it used for outdoor use. Stair mats include 3/8" diameter grommet holes in every corner to secure mat to the surface. The mats are made of an electrically operated heating element sandwiched between two protective surfaces of non-slip rubber, making the mats as durable as automobile tires and wear resistant. Plugs into any standard 120V or 240V outlet using a GFCI protected, 6'L power cord (sold separately). Each stair mat is 11"D x 1/4" thick. Each stair mat is designed with watertight 18"L connector cables enabling it to connect to additional stair mats. Can connect up to 12 amps on a single outlet. Mats maintain an average temperature of 40 degrees above the ambient temperature. Turn the mat on before the snow begins to fall. The mats will melt snow at an average rate of approx. 2" per hour. 2 Year Limited Warranty.

Note: Price is per individual Stair Mat. Each set of Stair Mats requires one Power Cord to connect the system to an electrical outlet. Power Cord Sold Separately.