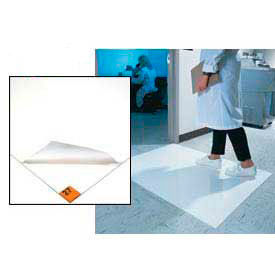 Clean Room & Sticky Mats
Clean Room Mats & Sticky Mats Trap Impurities in Areas That Require Dirt and Dust Control.

Mats provide a tacky surface that pulls dirt and dust from shoes to eliminate possible contamination in clean room environments. 1/8" & 1/4" thick tacky polyethylene mat utilizes layers of film laminated together. Simply pull top layer off and discard to provide a fresh, clean surface for use. Used for use on low-profile carpets, tile and concrete surfaces. Available in a variety of sizes. Refills available (sold separately).