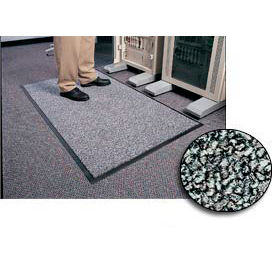 ESD Anti Static Mats & Conductive Carpets
Antistatic Flooring Protects Electric Equipment from Static Charges.

Static dissipative matting is used for heavily trafficked indoor areas including computer workstations, cashier's stations, offices, service counters, schools and libraries. 5/8 thick conductive matting features anti-static fabric fiber top with vinyl backing that grips floors. These anti static mats resist up to 109 ohms.

For Cut Length Mats, price is per linear foot. To specify orders in linear feet, please enter the number of mats desired in "Quantity" and add to the "Shopping Cart" where you can specify number of linear feet in "Length". Note: Allow a tolerance on cut mats for each side. For Custom Cut Length Mats in Inches (ex. 6'6" mat), please call toll-free number, 1-800-645-1232, for assistance. All custom cut mats are not returnable. All custom cut mats and rolls do not include snap for ground connection or grounding cord.