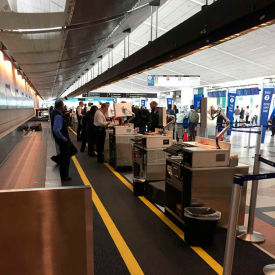 1" Thick Diamond Plate Anti-Fatigue Mats
NoTrax® Ergo Trax® Grande™ Anti-Fatigue Mat, 1" Thk, 4'W Full 75' Roll, Black/Yellow

Ergo Trax® Grande™ is a thicker, heavier and stronger anti-fatigue floor mat. Engineered to meet the toughest requirements of today's industrial applications and is particularly suited for multi-shift operations in dry work areas. At a full ONE-INCH thick, it is the ultimate anti-fatigue product maximizing worker productivity and comfort. The durable vinyl diamond-plate top surface is made of 100 % materials and the design provides non-directional traction and is easy to clean. The top surface is combined with a Niru® rubber sponge base utilizing Notrax® exclusive UniFusion™ bond guaranteed for the life of the mat. Beveled edges on all four sides. Ideal for multi-shift environments in dry work areas where the worker is standing for prolonged periods of time; workstations, assembly lines. Certified by the NFSI (National Floor Safety Institute). 1" thick.