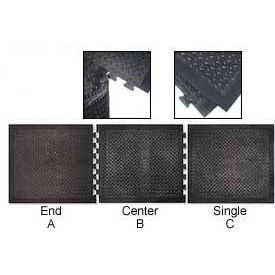 Diamond Top Interlock™ Modular Mats
1/2" Thick Modular Mats Provide Comfort and Safety With Quick And Easy Assembly. Choose a single workstation mat, or combine center and end mats to configure custom lengths. Configure the mats as desired. This mat is designed to create a Custom length, mat width at 28" is not customizeable

"End mats have interlocking teeth on one end to serve as an "End" mat. Mat with interlocking teeth on both ends would serve as a "Center" mat in a configuration. Single Mats have no interlocking teeth and are a stand alone mat size. This mat is designed to be expanded to custom lengths with the widths remaining constant at 28". Solid rubber construction for wet or dry environments. Underside of mats have an ergonomically "waffle" design for maximum worker comfort and durability. These 1/2" thick modular tiles are made with black molded rubber Diamond tread plate surface provides an attractive and safe slip resistant work area. Beveled edges on these rubber tiles increase safety by preventing tripping and slipping. Create anti-fatigue matting that fits your work-space.