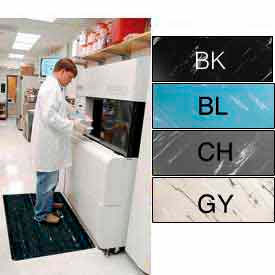 1/2" Or 7/8" Thick Anti-Microbial Marble Vinyl Top Antifatigue Matting
Anti-Microbial Marble Top Wearwell Anti-Fatigue Mats Protect Against Mold And Bacteria

Marble ergonomic matting is used for dry, high traffic areas such as labs, pharmaceutical manufacturing, and biotechnology. The non-porous vinyl surface offers exceptional abrasion and chemical resistance. Anti-microbial anti-fatigue mats feature a Nitricell® sponge base and beveled edges for safety. Select mats also available with WOW! slide resistant backing. Passes NSF anti-microbial test ASTM G21-96. For Cut Length Mats, price is per linear foot. To specify orders in linear feet, please enter the number of mats desired in "Quantity" and add to the "Shopping Cart" where you can specify number of linear feet in "Length". All custom cut mats are not returnable.