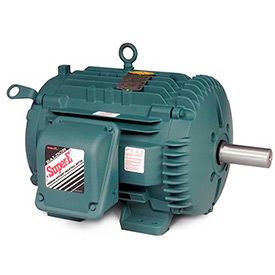 Baldor Cooling Tower Motors
Baldor-Reliance Cooling Tower Motors are used for High Moisture Environments.
These cooling tower motors are used for mounting in the air stream to provide increased efficiency and power factor performance. They operate at optimal system efficiency point with variable speed control and increased system reliability with fewer mechanical parts. They also provide quieter operation than conventional motor/gearbox system for HVAC, chemical, and oil/gas industries. Horsepowers range from 10/2.5 to 60. RPMs range from 1770/885 to 1780. Voltages range from 230/460 to 460/460. Frames range from 184T - L215T.
Other features include
Easy to use drive control parameters
Interfaces easily to building automation control systems
Replaces high maintenance conventional gear and belt drive arrangements
Premium efficient severe duty multi-speed axial fan motors
Class F insulation, 1.15 service factor
Lip seal, shaft slinger, and T-drain in both ends
Electrical design is single winding variable torque
Double shielded ball bearings
Burndy type YA compression lead lugs
3 year warranty