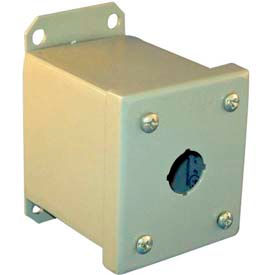 Springer Controls 22mm Enclosures
Springer Controls 22mm Enclosures Mount Standard 22mm Pushbuttons, Pilot Lights And Switches.

Springer Controls Enclosures 22mm Enclosures are made with polycarbonate or painted metal shell for long lasting durability. Enclosures offer increased protection from dust and contaminants. Base mounted contacts type (no operators). With a compatible operator installed enclosures offer IP 66 protection in dirty or wet environments. NEMA 1, 3, 3R, 4, 4X, 12, 13 certified. Types are 1, 2, 3, 4 or 6 hole.