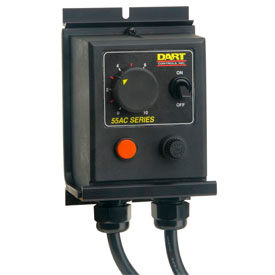 Dart Controls™ 55 Series Var. Voltage
Dart Controls™ 55 Series Variable Voltage Supply Is Specifically Designed For The Vibratory Feeder, Fan, Pump, Heating And Lighting Industries.

Variable voltage supply units feature a single-phase AC input and fully variable AC output. Used for shaded pole, permanent split capacitor, universal motors or any resistive load. Not for use with capacitor start motors. Rugged housing with on/off power switch, power indicator and front access fuse. Features convenient input and output cords and plugs. Operating temperature range of -10 to 45°C.