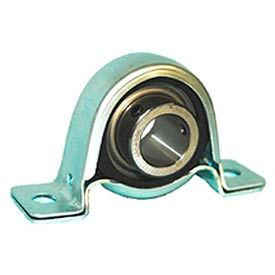 Browning Pillow Block Mounted Bearing, Stamped
Browning Pillow Block Mounted Ball Bearings, Stamped Are Designed To Adjust For Misalignment And Dampen Noise And Vibration.

Pillow Block Mounted Ball Bearings, Stamped are constructed of a stamped steel housing for long lasting durability. Pillow block housing with a semi-solid, cast iron base provides an excellent mounting foundation and is integral to prevent sheet metal buckling. 120° balanced set screw position provides a balanced three-point contact that minimizes vibration, reduces noise and improves locking reliability. Temperature ranges are from -20° to 200°F. Bore diameters are 7/8 in., 15/16 in., 1"", 1-1/8 in., 1-3/16 in. and 1-1/4 in. Mounting hole centers are 3-3/8 in. and 3-3/4 in.