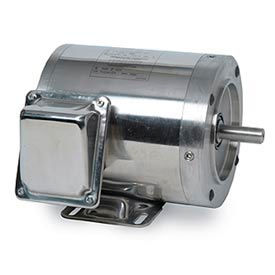 Leeson Washguard SST All-SS, 1 & 3-Ph
Leeson Washguard SST All-Stainless Motors Withstand The Severe Washdown Environments Found In Chemical, Food Processing And Beverage Industries.

Leeson Washguard SST All-Stainless Washdown 1-Phase and 3-Phase Motors feature a moisture resistant sealant between frame and endshields and an anti-corrosion coating on internal components for long lasting durability. No paint or coatings of any type are used on the exterior of the motor. Includes four locations for T-drains provided on each endshield to purge condensate and water, and a full-fact nameplate laser-etched on the motor frame. Offers 10:1 ratio for constant or variable torque at 1.0 SF. Meets IP55 enclosure protection. Available with 0.5 to 10 HP. Mounting types are B14, B5, C-Face, IEC 71, Rigid, Rigid B5, and Rigid C. Enclosure types are TEFC or TENV. RPM and frames vary per model.