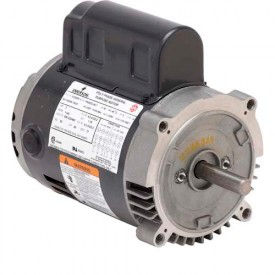 US Motors Gate Motors
US Motors Gate Motors Are Used For Commercial Gate Operation.

All Gate Motors are designed by US Motors and feature solid manufacturing and long lasting durability. Permanent lubricated ball bearings make them unmatched for commercial gate opening and closing. These electric gate motors are single phase for low-cost, high-efficiency use. They feature a permanent split capacitor, resilient base mounting and locked rotors. US Motors Gate Motors feature open construction and rear-shaft mounted fans for good air flow, reduced heat and greater longevity. However, the motor vents also feature Open Drip Proof (ODP) Design to keep water precipitation from flowing directly into the motor. All motors weigh around 80 lbs. and pull gates measuring in the thousands of pounds. All US Motors Gate Motors turn at 1625 RPM and produce a voltage of 115 V. Horsepower levels, sizes and specs vary by model.