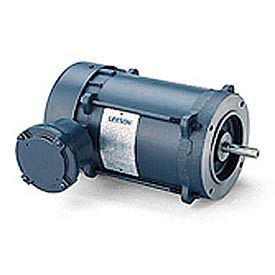 Leeson Explosion-Proof, 3-Ph, C-Face Less Base
Leeson Explosion-Proof, 3-Phase Motors, C Face Less Base, Division I, Division II, Class I, Groups C&D Are Used For Use In Hazardous Locations.

Leeson Explosion-Proof Motors are designed and approved for application in hazardous environments that have certain explosive gases or materials present. Rugged, mechanical construction meets all requirements for safety. UL and CSA listed. Double shielded, pre-lubricated ball bearings are standard. All motors have inherent automatic overload protection. Explosion-proof conduit box included at no extra cost. Division I areas are environments where a hazard is present continuously or would be subject to fire or explosion if the hazard was present as a result of an accident or uncommon occurrence. Division II areas are environments where the threat of fire or explosion is not normally present and not likely to result in the event of an abnormal occurrence. Application Notes: These motors must be applied in accordance with the National Electrical Code, Article #500.