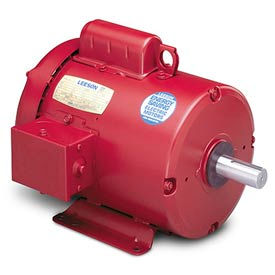 Leeson Farm Duty, High Torque, Rigid Base, 1-Ph, TEFC
Heavy duty single phase Hi-Torque Motors are designed specifically for severe "farm duty" applications.
Mechanical Features: Gasketed capacitor housing and conduit boxes provide protection in all environments. Double sealed ball bearings prelubricated with Exxon POLYREX® EM grease having operating temperature range of -20°F to +350°F and special formulation to provide extra bearing protection. Rubber boot over manual protector reset button provides weather protection.
Electrical Features: Low temperature manual overload protector protects against extreme overload. Class "F" copper windings and varnish. Capacitor start provides high starting torque with normal starting current.
All 180 and 210 frame Rolled Steel motors have Class F Insulation.