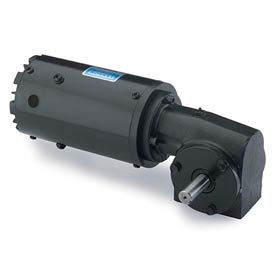 Leeson Right-Angle AC Gearmotors, 1-Ph
Worm-type right-angle gearing features hardened, steel worm with bronze worm wheel for long life and quiet operation. Features precision machined aluminum housings and gearbox with all ball bearings. The housing is sealed and lubrication is permanent with an oil bath. The output shaft is field interchangeable from left hand style to righthand style.

Single phase gearmotors are totally enclosed for continuous duty, general purpose applications. Permanent split capacitor motors are rated 115/230 VAC 60/50 hertz input, and have starting torque equal to the running torque.

For optimum seal life, these right angle gearmotors have a lubrication breather positioned for horizontal mounting. For other mountings, the breather-plug must be re-oriented by using a 90 degree 1/8 NPT taper pipe elbow. However, the motor portion of the gearmotor should never be mounted below the gearhead. Overhung load capacities shown are at center of outputshaft. These motors are supplied with continuous duty run capacity. Conduit box not supplied with motor.