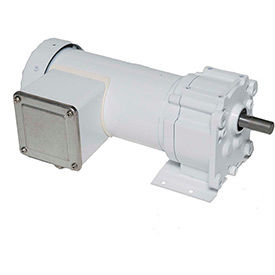 Leeson Parallel Shaft AC Washguard® Gearmotors
Single phase gearmotors are totally enclosed for continuous duty, general purpose applications. Permanent split capacitor designs are rated for 115 VAC 60 hertz input, and have starting torques equal to the running torques. The inline gearing is of precision machined steel, with first stage steel helical gear followed by spur type gears. Lubrication is by semi-fluid grease, reducing possibility of leakage and providing permanent lubrication. Output shafts have needle bearings for high load capacities. Shafts are hardened steel.

These gearmotors are designed for mounting at any angle, but shaft up with motor below should be avoided to prevent leakage of lubricant into the motor should the motor' shaft seal fail. If these gearmotors are stalled, gearhead damage may result, especially in the ratios of 60:1 and higher. Provisions to limit the torque are recommended. The torque values listed are the recommended full load torque values for reasonable gear life. Overhung load capacities shown are at center of outputshaft. All PZ Series gearmotors are supplied with continuous duty "run" capacitor. Conduit box not supplied with motor. Model PZ gearmotors have the same mounting dimensionsas Bodine model D and Z gearmotors, Bison 100 gearmotors, and Baldor/Boehm PSS, plus many Dayton gearmotors.