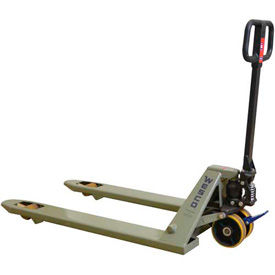 Wesco® Quick Lift Pallet Jack Truck
Wesco® Quick Lift Pallet Jack Truck is one of the Fastest Pallet Trucks Available!

Simply step down on the foot-operated pedal and the Wesco® Quick Lift Pallet Jack Truck's forks lift to 4-½" instantly; no handle pumping is required. Normal pump operation is restored when the load exceeds 300 lbs. Heavy-duty hydraulic pump with safety overload bypass valve smoothly lowers pallet minimizing merchandise damage. Ergonomic rubber coated handle improves grip and has 3-position fingertip control (Raise, Lower, Neutral). Rolls smoothly on 7" polyurethane steer wheels. 190 degree turning radius. 3" polyurethane load wheels and entry assists insure easy pallet entry and exit. 27"W x 48"L with 6"W forks. Adjustable fork tie rods help keep proper alignment. 3" lowered height and 8" raised height.