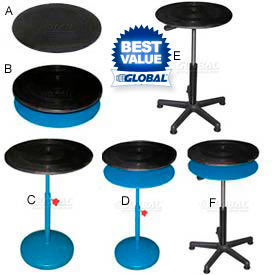 Manual Rotation Turntables
Manual Rotation Turntables Maximize Efficiency by Minimizing Wasteful Motion.

Manual Rotation Turntables are made with a ½" thick steel plate with a rubber cover and blue enamel finish to provide long lasting durability, allowing the user to rotate the load to access areas out of reach. Easy-rolling bearings provide smooth rotation that won't jostle parts. Manually Rotated Turntables can be used for hundreds of applications, including displays, painting, repairs and assembly processes. Multiple personnel can work on projects without interfering with each other. Style D and F have a stationary lower shelf for storing parts and tools. Style C and D have a turn knob for easy height adjustment. Style E and F have a gas cylinder for convenient height adjustment. Carousel diameter ranges from 8" - 30". Overall height up to 25" - 36". Capacities are 300, 500 and 1000 lbs.