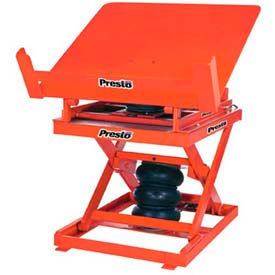 PrestoLifts™ Pneumatic Lift & Tilt Tables
Presto® Pneumatic Lift & Tilt Tables combine the features of Scissor Lifts and Tilt Tables and can be used Anywhere Shop Air is Available.

Presto® Pneumatic Lift & Tilt Tables use no electrical power, providing for easy maintenance and long-lasting durability. Tables can lift and tilt up to a 30° angle. Tables are operated by a Firestone Airstroke™ Actuator that comes with a Lifetime Warranty and can deliver long working life without duty-cycle limitations. Bellows-type airbags contain and form compressed air to provide the force to lift and tilt the table. Tables require 80 PSI of air at 15 CFM and include a pressure-release valve for added safety. Over tilting is prevented by a restraint chain. Air-powered Tables must be lagged to a clean, level floor. A pedestal-mounted Hand Control allows for easy operation, and includes an 8' hose for remote operation. 2 Year Limited Warranty. Custom Sizes and Designs are available; please call for more information.