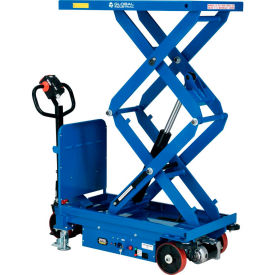 Battery Powered Mobile Scissor Lift Tables
Battery Powered Mobile Scissor Lift Tables Raise Loads to Comfortable Working Heights For Proper Material Handling Ergonomics.

Tables are made from rigid steel for long lasting durability and maximum load support. Premium-quality hydraulic system features an integrated hydraulic pump/cylinder assembly for reliable performance. Captured scissor rollers with maintenance pins provide increased stability during material handling jobs. Battery Powered Scissor Lift Tables allow the operator to raise and lower platform with the push of a button for safe, ergonomic operation. Mobile Lift Tables roll on 2 rigid and 2 swivel (with brakes) industrial casters. Capacities range 330 lbs. to 3000 lbs. Double and Single Scissor available to meet specific lift height requirements. Additional dimensions vary per model.