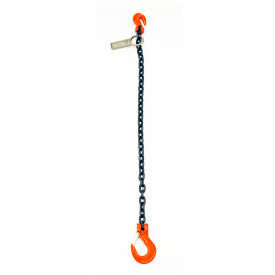 Chain Slings - Single Leg
Chain Slings - Single Leg Support Heavy Duty Content Lifting, Handling, and Support For Machine Shops, Distribution Centers, Warehouses, and more.

The compact plate design supports larger hook sizes allowing ergonomic sling handling and rigging. The heat treated alloy steel master control link provides strength and durability for years of reliable service. The angled plate design minimizes bending torque on chain and plate for increased sling life. The wide top bearing surface is designed to reduce plate and crane hook wear. Includes a powder coat finish for corrosion resistance. Hook types are Grab Hook, Oblong/Sling Hook, Sling Hook, and Sling Hook/Grab Hook. Weight capacities are 2700, 3500, 4300, 7100, 8800, 12000, 15000 lbs. Chain sizes are 7/32", 9/32", 2/7", 3/8", and 1/2". Lengths range from 3' to 20'.