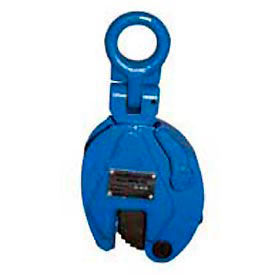 Vertical Plate Clamps
Vertical Plate Clamps Provide Material Handling For Hoists and Cranes.

Vertical plate clamps are designed to vertically lift and turn plate material. Most lifting clamps include a pivoting bail for versatile, smooth operation and automatic serrated hardened steel pads and cams. Clamps feature a drop-forged steel case for maximum strength. Meets ASME B30.20 specifications. Note: Not designed to use on stainless steel or aluminum plates. Most models are designed with materials with a surface hardness to 30 RC (300 HB). Dimensions vary per model.