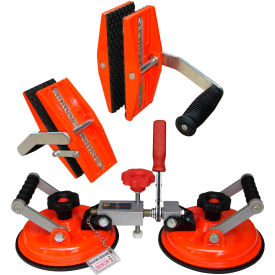 Abaco Lifting Clamps
Abaco Lifting Clamps Safely Lift And Carry Heavy Slabs Of Concrete, Stone, Glass Or Highly Polished Sheet Metal In Material Handling, Warehouse And Construction Environments.

Abaco Lifting Clamps are made of aluminum alloy and steel for long lasting durability. Clamp only requires one hand from each person, allowing easy lifting and positioning of heavy materials. Vulcanized rubber pads provide additional grip and prevent damage to materials. Types are 90 Degree Clamp, Double-Handed Carry Clamps, Ratchet Seam Setter, Single-Handed Carry Clamp, Sink Hole Support System and Sink Lock Support. Weight capacities are 100 lbs., 110 lbs., 132 lbs., 200 lbs., 220 lbs. and 440 lbs. Grip ranges and dimensions vary per model.