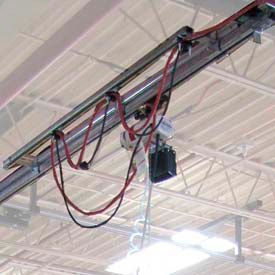 Hubbell® ToolAssistPro Overhead Tool Crane Kits
Hubbell ToolAssistPro Heavy Duty Overhead Tool Crane Kits Are Used For Commercial And Industrial Construction Applications.

Heavy Duty Overhead Tool Crane Kits provide overhead tool handling. Heavy Duty rolling rail mounts in two parallel rails, must be supported every 6' (1.8m) to maintain rated capacity. Recommended distance between support rails is length of tool rail less 12". Kits include 4 WS50-10HRP plain trolleys, 2 WS50-ETK tool track bridges, 2 WS50-HG hanger brackets, 1 WS50-BTL tool trolley, 2 WS-EP end caps, 2 WS50-ES end stops, 1 WS50 tool rail (length per model). All assembly hardware included. Capacity in lbs: 50 and 250. Weight lbs are 50, 60, 70, 80, 95 and 120. One Year Limited Warranty.