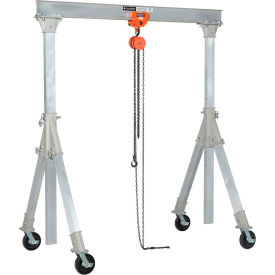 Adjustable Height Aluminum Gantry Cranes
Adjustable Height Aluminum Gantry Cranes Support Heavy Duty Content Handling and Transport For Warehouses, Construction Sites, and more.

Aluminum Gantry Cranes are lightweight and portable to allow for easy movement and height adjustment in 6" increments without the use of a forklift. Pin connectors and I-Beam mounting plates allow single person set up and disassembles in minutes. Includes 2 straps to transport materials. Use Crane to Lift Loads only. Cranes have a 54" base depth with four 4-position swivel lock casters. Available capacities are 1500, 2000, and 4000 lbs. Dimensions vary per model

**Height is measured from underside of I-Beam to Floor.

NOTE: All gantries should be inspected frequently to insure safe operation. Final testing and inspection is left to end user after final assembly has been completed. For further details see ASME B30.17.