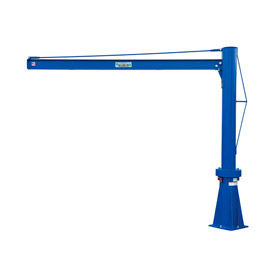 Multi-Station Transportable Jib Cranes
Transportable Jib Cranes Are Designed For Use In Multiple Locations.

These transportable floor mount jib cranes include one jib crane and one base socket. Jib crane easily detaches from base and can be re-attached to another base for use at multiple workstations. Made from welded steel for strength. Friction brake allows positive locking and controlled rotation of heavy loads. Floor jib cranes allow 360 degree continuous rotation of heavy loads. Base socket is 31 H with a 17 x 17 floor mountable base.

Purchase Extra Base Sockets for use in other locations.