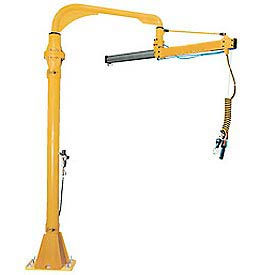 Air Balance Jib Lifter
Air Balancer Achieves High Performance, Excellent Safety And Low Cost Handling Of Heavy Materials.

Jib lifter is designed to effortlessly handle materials in a wide open work space. Push button hand control operates pneumatic cylinder to lift and lower the cable and position load. Durable steel jib crane withstands up to 250 lbs. Offers 360 degree rotation with a maximum arm length of 93 .