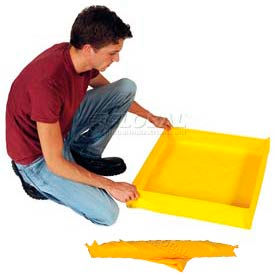 Flexible Utility Trays
Flexible Utility Trays provide Efficient Control of Spills and Leaks of Hazardous Materials.

Flexible Utility Trays are made of rust and corrosion resistant PVC coated fabric for long lasting durability and dependability. Ready for immediate use with no straps, supports or sidewalls to set up. Flexible-sidewalls offer incidental spill control during temporary storage of drums, machine parts, tanks, and generators, and can also be used as a washdown pad or pumping station. Types are Tray with Grate and Tray without Grate. Capacities vary from 1-1/2 gallons to 61 gallons. Overall dimensions vary per type.