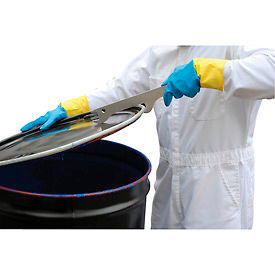 Multi-Purpose Drum Lid Tool
Multi-Purpose Drum Lid Tool Opens Stubborn Lids.

This unique, patent pending tool is designed for opening Lids on removable head Drums. The special hook is used for breaking open the Lid seal and the long handle provides adequate torque for easy operation. Tool features an integral 1" wrench for removing ring bolts and nuts, and a slotted end to close Drum ring lever locks. A pre-drilled ½" diameter hole is included to hang the tool in the work area. Durable steel construction with a durable powder coat silver finish.