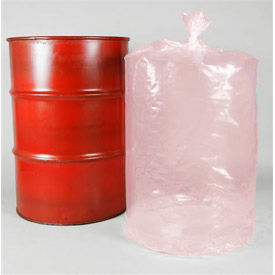 Global Industrial™ Flexible Round Bottom Anti-Static Drum Liners
Global Industrial™ Anti-Static Liners are for use with Paints, Inks and Sealants.

Global Industrial™ cylindrical shaped flexible Liners allow for the reuse of Drums without the need for time-consuming cleaning. Liners feature a 360° heat seal design that holds light weight and extremely viscous products. Anti-Static Liner is specially formulated with an internal agent that dissipates static charges away from potentially flammable products and eliminates dry chemical static cling. For use with Drums used in the bulk processing and packaging of foods, chemicals, pharmaceuticals, adhesives, sealants, coating, inks, dyes, paints, varnishes, colorants, powdered products and more. Round bottom shape design minimizes wrinkles and folds, allowing the complete recovery of valuable product. Pink low-density polyethylene (LDPE) liners are constructed using FDA approved resin. Sold in package quantities.