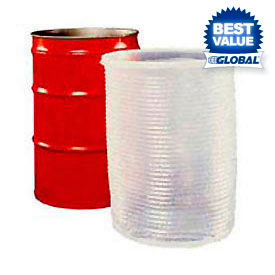 Global Industrial™ Drum Inserts & Liners
Global Industrial™ Drum Liners and Inserts Allow Immediate Reuse of Steel Drums and Containers

Global Industrial™ Drum Liners and Inserts are made with FDA approved low density, leak-proof polyethylene for long lasting durability. No need to clean or recondition after use. Inserts are used for mixing and pumping applications. Contoured lip helps prevent leakage between the Insert and the Drum wall. Pleated models fit varying reconditioned Drum heights. Smooth Wall models maximize recovery of contents from new Drums. Liners have with snug fitting round bottom fold over outside of Drum or tie at top to help prevent contents from mixing and leaking. Styles are Inserts and Liners. Types are Pleated Walls and Smooth Walls. Gallon capacities are 5, 30 and 55. Thicknesses are 4, 8, 10, and 15 mil. diameters up to 38".