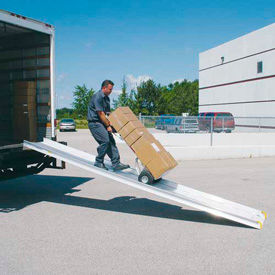 Magliner® Retractable Underbody Truck Slider® Ramps
Magliner® Retractable Underbody Truck Slider® Ramps are Built for Tough, Long-Lasting Service.

Magliner® Slider® Ramps roll out quickly and store securely under the truck. Lightweight aluminum construction offers easy maneuverability and placement. Simply release the lock and pull the ramp out; it rolls out easily on wheels and will stop automatically at the end of the ramp. Raise the ramp, place the hooks into the truck sill slots and the ramp is ready to use. Twin-tooth ramp surface offers safe, secure traction in either direction of travel along the entire deck. Anti-rattle springs prevent the ramp from bouncing or rattling when the truck is being operated. An easy-to-operate automatic safety lock holds the ramp securely in place when stored under the truck body. An integral anti-theft angle stop prevents the ramp from being extended too far, helping to reduce the risk of theft when truck is unattended. Ship completely assembled for easy installation.

Note: Not designed for use with Powered Equipment or Pallet Jacks; recommended for Hand Truck use only.