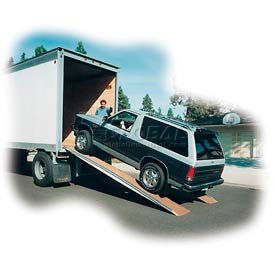 Fiberglass Autoloader Hinged Ramps
Unique Hinged Design allows Ramp to Separate in Half to provide Two Ramps.

Fiberglass Autoloader Hinged Ramps offer the ability to load vehicles and other equipment easily. Each 36"W Ramp may be separated in half to provide two 18"W Ramps to load practically anything into or from trucks and trailers. Center Hinge Pins allow Ramps to be used as a single Ramp or two separate Ramps. Ramps are constructed of reinforced fiberglass, marine-grade plywood and aluminum extrusions for long life. Locking Pins are included for securing Ramp to truck or trailer. Abrasive deck surface provides good traction either wet or dry. 1"H curb on each side of ramp for safety.

Note: Not for use with Forklift Trucks or Pallet Trucks.