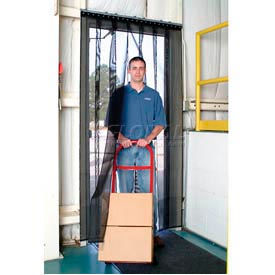 Aleco® Air Flex® Insect Barriers & Bug Curtains
Aleco® Air Flex® Strip Curtain Doors allow Cool, Fresh Air In while Keeping Bugs and Flying Insects Out.

Aleco® Air Flex® Bug Barriers are great for a variety of applications including personnel doors, loading area exits, back doors at restaurants and food prep facilities, and open air concessions at parks and arenas. 8"W mesh strips allow light and air penetration to keep a naturally lit and ventilated environment and are made of 12 oz. PVC coated polyester for long life. These insect curtains have a 50% overlap for secure sealing. Insect Barriers include a 12"H clear PVC footer to protect the door and act as a weight for straight hanging; can be field modified for a perfect fit. Door Strips are easy-to-install using included MaxBullet® HTP cross-link polymer mounting hardware. Available in Black or Safety Yellow.