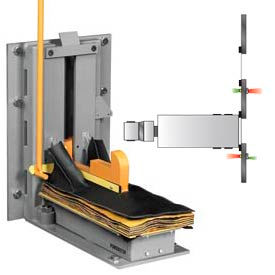 Powerstop® Truck Restraints
Limit Trailer Creep & the Chance of Premature Truck Departure from your Dock!

This non-impact, self-aligning truck restraining system offers enhanced safety for your loading dock. Versatile restraint can be easily integrated with any mechanical, hydraulic or pneumatic leveler, and edge-of-dock or top-of-dock units. The low-profile PowerStop® restraint will withstand up to 30,000 lbs. of pull-out force and has a service range of 0" to 10" horizontally from the face of the dock bumpers and 12" to 29-½" vertically above the drive approach. Designed to meet 1998 NHTSA regulations, the unique dual-locking restraint arm minimizes trailer creep and a protective debris guard is standard. 1 Year Limited Parts and Labor Warranty.

Manual Truck Restraint with Manually Operated Lights provides an extremely safe and efficient loading dock environment by establishing a clear line of communication between the truck driver and the dock attendant. The inside control panel and exterior light package incorporate a red and green signal that work in opposing modes. Green outside light guides the truck into position, while the inside red light warns the attendant that the loading/unloading condition is unsafe. Upon activation of the restraint, the lights are switched to red outside and green inside to warn the driver not to move and indicating a safe condition for the attendant. High-visibility exterior caution signs are included help to warn the driver to "Pull In or Out on Green Only". A 73-½"L steel activating bar and a bar wall bracket is included to operate the restraint.

Manual Truck Restraint with Automatic Light Sequence turns the safety warning lights on and off automatically when restraint is engaged or disengaged.

Automatic Truck Restraint offers simple push-button restraint activation. A self-contained pump/motor power pack with a 96"L hose and translucent reservoir can be remotely mounted to the dock face, under the leveler or inside the building. Automatic LED interior and exterior lights, interlock terminals and override selector switch are standard.

Note: Custom options and sizes are available; please call for more information.

Note: A Site Survey must be filled out when the Order is placed. Additional installation materials may be required; final determination will occur upon receipt of approval document. Depending on site conditions, the use of brackets or unit modification may be required. Dock Restraints are non-returnable.